Last week, Flint Capital a Moscow-based venture fund launched last year, announced that it has increased its committed capital to $50 million – up from $30 million previously – following an agreement with a new and undisclosed LP.
This contribution will be directed towards Israel, where the fund intends to invest in at least in 10 startups in the near future. The amount invested in each startup may reach up to $5 million, depending on the project stage and quality.
"The Israeli start-up market is very liquid. Exits are an industry standard, there are always active buyers for good teams and their projects," the fund's Managing Partner Dmitry Smirnov said in an exchange with East-West Digital News. "Moreover, the Israeli and US venture ecosystems are comparable both in a business attitude and mentality. The teams are determined and professional. The technologies and services are innovative and ground-breaking."
"We have a long term strategy and focus on the Israeli market. We are determined to become a major player in the market and a reliable partner for both Israeli projects and VCs," Smirnov added.
Flint initially targeted Russian startups, but has recently broadened its focus to include international markets, especially the US, Latin America and Eastern Europe.
Art for venture, venture for art
Last month, Flint Capital's first steps in Moscow's artistic scene did not go unnoticed as the fund teamed up with award-winning artist Andrei Logvin to present the joint project "Art Venture", a series of nine posters – 70x100cm – featuring calligraphy that highlights Russian investment sector.
The central object of each poster is three rows of five letters, primarily Cyrillic, intended to create an image of the current energetic development of this sector in Russia. Logvin believes that any idea can be in Russian in three words, so he set out to create a series of matrices that take on new meaning and create unexpected texts, depending on how they are viewed.
Most of the terms are written in Cyrillic, even through the culture of investment comes from English-speaking Silicon Valley. Although Russia has developed a local venture-capital community with the investment from 2010-12, English terms have not been fully replaced by local synonyms, remaining comprehensible only to VC market participants.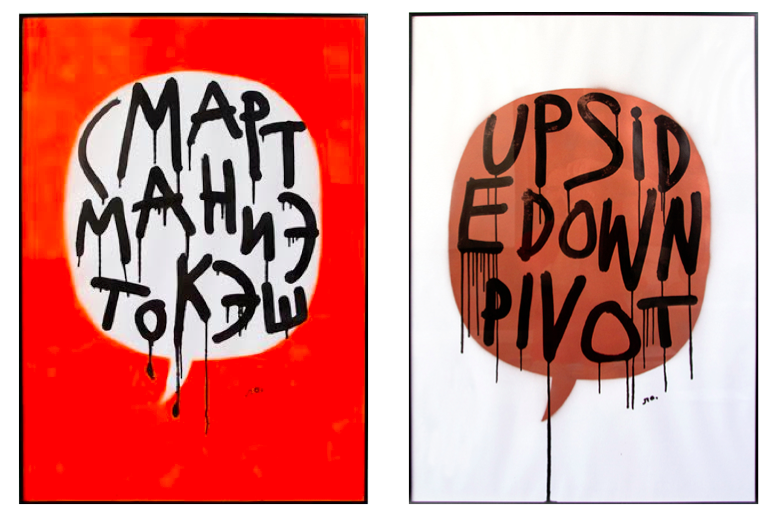 "We are glad to have the opportunity to collaborate with an artist of Logvin's stature. The art-project 'Art Venture' was commissioned for the first anniversary of our fund and we would like to remind our colleagues that there is a place in the investment business for both art and for jokes," Smirnov said.
Logvin is a graphic designer and poster artist who has won more than 30 awards from Russian and international competitions in design and advertising. He is a State Laureate of the Russian Federation and his works have appeared in museums and collections around the world, including the State Tretyakov Gallery.