Ru-Net, a major Moscow based venture fund, launched the American arm of its activity last month by establishing RTP Ventures, making its $700 million under management available to US Internet, SaaS and cloud computing companies. A few weeks earlier, the fund had participated in a $60 million round of financing – along with German based Rebate Networks and local players – to develop e-commerce in Vietnam.
Ru-Net's moves exemplify Russia's new high acquisition profile on the international venture scene. "In the last few months, we've witnessed a sharp rise in the interest of Russian investors in foreign tech projects," says Vasily Bargan, publisher of Venture-News.ru, a website dedicated to the Russian venture market. "In September and October of this year, Russian funds invested even more abroad than in domestic companies."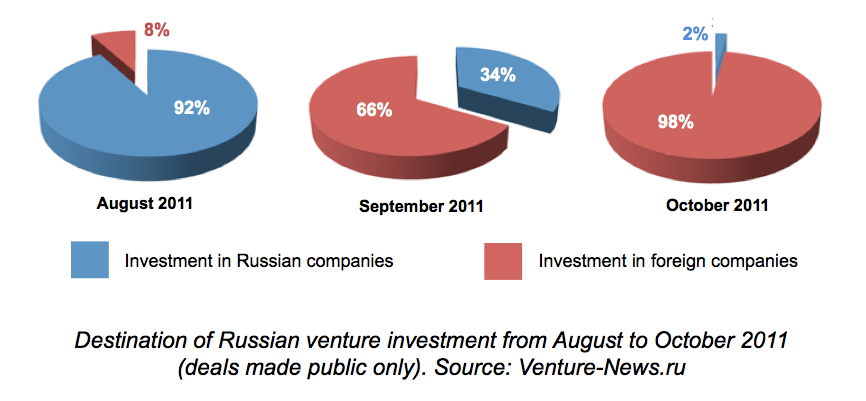 The invest abroad trend was initiated in 2009 when DST acquired a stake in Facebook. The deal, completely unusual at that time, was seen by many as desperate and vulgar, Wired recalled in a recent article. "On the one hand, DST was buying a small stake in Facebook, valuing the entire company at $10 billion, on the other, Facebook was debasing itself by taking Russian money. Russian money!"
Vulgar? Or perhaps an embarrassingly strategic move that was missed by local Silicon Valley insiders.  In the midst of the banking crisis, Facebook had only two other bidders for its financing round — and no takers from top tier VC, Wired reminds.
From Facebook to Shazam to Airtime
Not only does the DST fund now enjoy a reputation as a respectable and fully established investor, fewer and fewer global Internet companies resist its appeal. Having acquired stakes in such properties as Groupon, Spotify, Twitter, Zynga, alternative accommodation service Airbnb, medical appointment service ZocDoc, Chinese B2B platforms Alibaba and 360buy.com, to name just a few, DST has built one of the most prestigious Internet company portfolios among top-tier funds. Total DST investment in Facebook has reached over $500 million, garnering a stake estimated at some 10%.
Why stop there? A second fund, DST Global II, launched in May of this year, has already raised over $1 billion. The Russian fund is now considering acquiring a stake in Yahoo, according to rumors last month.
DST co-founder Yury Milner — whose house in the Valley, at a reported $100 million, is among the most expensive in America — now counts among the world's most influential venture capitalists. He is bringing personal money to a number Californian startups like Airtime and DrChrono.
Furthermore, DST's success abroad has spurred several Russian funds to followed its lead. The international high tech portfolio of VTB Capital, the venture arm of Russia's second largest bank, now includes Returnil, an international provider of security solutions, Beau Laboratories, a 3D software developer, and AiHit, a UK based provider of corporate data to marketing companies.
Founded in 2010 with $300 million under management, Bright Capital is the venture arm of RU-COM, the Russian multifaceted group owned by Mikhail Abyzov. Focusing on clean tech, but also interested in medical and information technologies, the fund has invested mainly in the US and Western Europe. Among its recent operations was, in April of this year, a participation in the $45 million round of financing of Genomatica, an American chemical producer specializing in green, renewable chemicals for a variety of commercial applications.
Although initially focused on Russia, Moscow based venture fund Runa Capital – which manages $75 million in capital and share assets – also recently started to invest abroad. In October, Runa acquired a stake in BigTime, a US corporate software publisher. The investment was limited to a few hundred thousand dollars, but just three weeks later the fund announced its next investment in ThinkGrid, a UK headquartered global cloud company.
VTB Capital and Runa Capital are both currently eyeing a number of additional potential international targets.
Another Russian fund, iTech Capital, also has an international vision. It recently launched an ambitious Russian social gifting app on the Turkish version of Facebook.
Russian Venture Company, the Russian state owned fund of funds dedicated to innovation, invests abroad through Institutional Venture Partners XIII (IVP). This global later-stage venture fund was joined in 2010 by Russian Venture Capital II LP, an RVC subsidiary registered in the UK. RVC thus got involved in the financing of SugarInc., Shazam, Clearspring, Dropbox, and several other companies, providing the Russian state with an indirect participation in leading international web players.
Between domestic politics and globalization
The new international orientation may appear to be a willful ignorance of the many appealing opportunities on the domestic IT market, still in its early stage of development and in need of capital. The trend towards investing abroad, however, seems to be led by factors ranging from domestic politics to considerations of classic investment strategy.
"With state Duma and presidential elections approaching, many Russian businessmen have adopted a wait and see attitude regarding domestic projects," notes Bargan. Current Russian president Dmitry Medvedev has been a strong advocate of technology-driven modernization, not only in words, but in deeds as witnessed by prominent state sponsored projects like Skolkovo, a world-class innovation hub just outside of Moscow.
Few expect Medvedev's likely successor – and predecessor – Vladimir Putin to drop the country's modernization ambitions, while Medvedev himself is expected to maintain considerable influence as Prime Minister, the position he has already announced he will fill after his presidency is over. A decrease in state investment is, however, likely. "We cannot, and must not, increase state funding of innovation indefinitely," Russian Vice Prime Minister Sergey Ivanov declared last month.
It is clear that investments in foreign tech businesses reduce the exposure of Russian funds to the vicissitudes of domestic political wobbling. Further, although the Russian IT market is growing fast, it is still very far from reaching the scale of magnitude of the global market, or even of the more mature markets of many advanced countries taken individually.
The international strategy may also be good for the domestic market in the long run, however. If Russian funds limited their scope of interest exclusively to local investment targets, this would create an investment environment even more insular than it already is. Such a strategy would undoubtedly also force Russian funds to remain small players on the global scene. By opening perspectives on the global investment market, Russian funds are gaining valuable experience that will likely play a role on the nascent domestic market, possibly influencing the dynamics of future transactions. Their presence in funding rounds and boardrooms around the world may also have an diffusive effect on the international community and the way it regards Russian capital. The success of Russian funds abroad may yet change the view of Russian capital as 'vulgar'.