Yandex triumphantly started trading yesterday on NASDAQ, with its shares subscribed 17 times more than had been made available, reported Reuters from an unnamed source.
After initially considering a $20 to $22 price range per share, the company defined its IPO pricing at $25 per share, but after trading started, the price surged to nearly $40. Shares then slightly settled down to $38.84.
Yandex raised $1.3 billion in this IPO, which valued the company at $8.03 billion.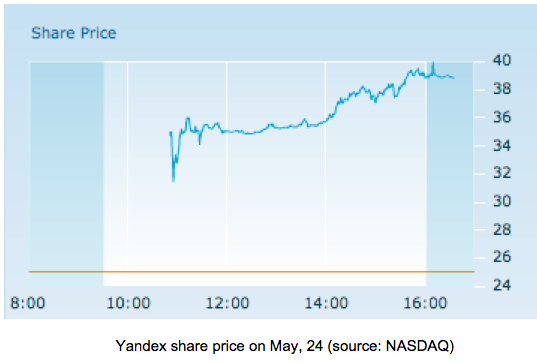 This was the biggest Internet IPO in the United States since Google Inc. nearly seven years ago, noted Reuters.
"Yandex has good growth to date, and I think they will in the future," Reuters quoted IPOdesktop.com president Francis Gaskins as saying. "Investors are hungry for growth wherever they can get it, whether it is Russia or elsewhere."
In October 2010, Mail.ru Group, another Russian Internet giant, began trading on the London Stock Exchange. The offering was oversubscribed by a factor of 20, and the IPO provided the group and its owners with $912 million in liquidity and advanced its valuation to $5.7 billion, based on the initial price.
Last April, Russia's leading mobile retailer Euroset had an unsuccessful brush with the LSE . The company, which apparently did not appeal to investors in spite of impressive financial results, had to postpone its scheduled IPO on the exchange.